This evangelistic series will give gospel-answers to the questions people have about life. These sermons are especially crafted for non-Christians to clearly understand the gospel. Each week, a testimony will also be shared in line with the sermon.
So prayerfully invite a friend! And let's all come prepared to warmly welcome one another's friends and loved ones.
3 Sundays, 10:00am at Dorset and via live stream on Facebook
This year's Annual General Meeting will be on 21st May at 12noon at the LOR Room. All registered members do update your email address with the church if there have been any changes.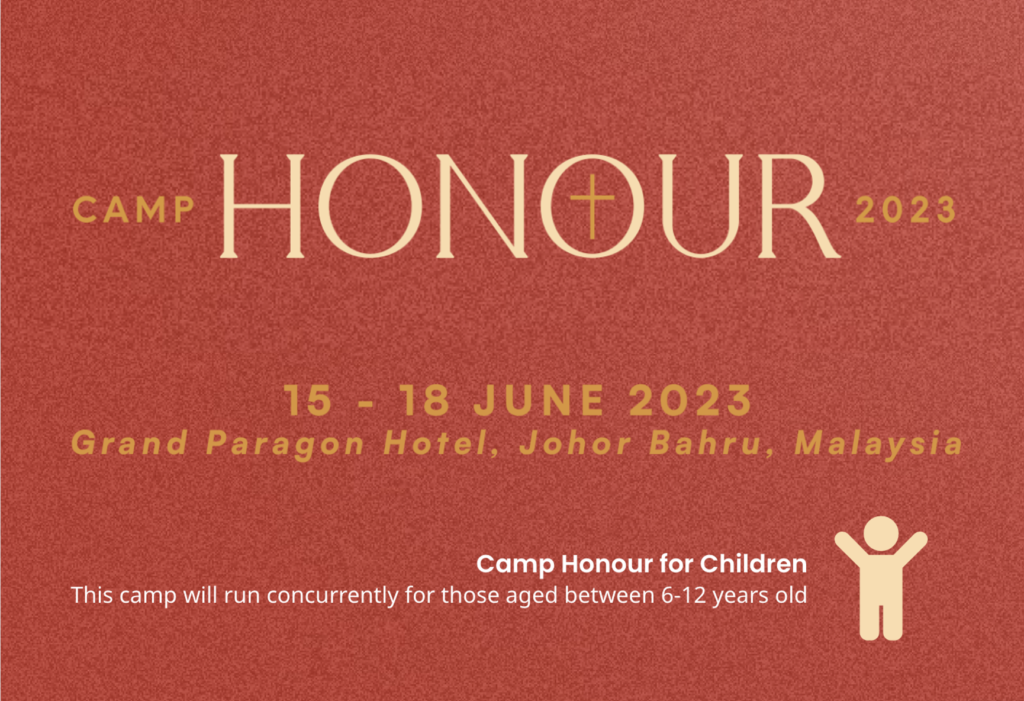 Registration for Church Camp 2023, Camp Honour is open! Do note that the last day for early bird registration is 26th Mar. Please approach the booth at the back of the hall on Sundays for assistance.
Thu to Sun (15-18 Jun), Grand Paragon Hotel in Johor Bahru, Malaysia
Good Friday is coming soon! This gathering will be hosted in homes by all the cell groups. Continue to invite non-believers to a time of food, fun and fellowship. 
Let's pray for our friends and loved ones to find hope in Jesus. A short video will explain what makes Good Friday good.
Friday, various timings at various homes
The Agape Guys' Ministry is inviting all the men in Agape to a BBQ by the Beach. All men who are 13 years old and above are welcome. 
This is an outreach opportunity to invite at least one friend. The agenda is free and easy. Enjoy good food and good bonding with one another over conversation. It's a great opportunity to put into practice what you've learned about evangelism. Cost: $12 per pax. 
Saturday, 4:30pm at Changi Seaview Resort
Have fun doing Pilates under the stars followed by dinner fellowship on 14 April at the above time and place. Bring along not just your mats, but a friend too for this healthy and wholesome time together. Absolutely no experience required!
Friday, 7:30pm at Kallang Wave Mall
IGs (Interest Groups) bring much joy not only to Agapians but also to our non-believing friends. This year, we would like you to commit yourselves to joining, organising or inviting friends to take part in the various IG activities.
Join the IG Telegram Channel to get updated on fellowship, fun and the future flourishing of Agape Baptist Church!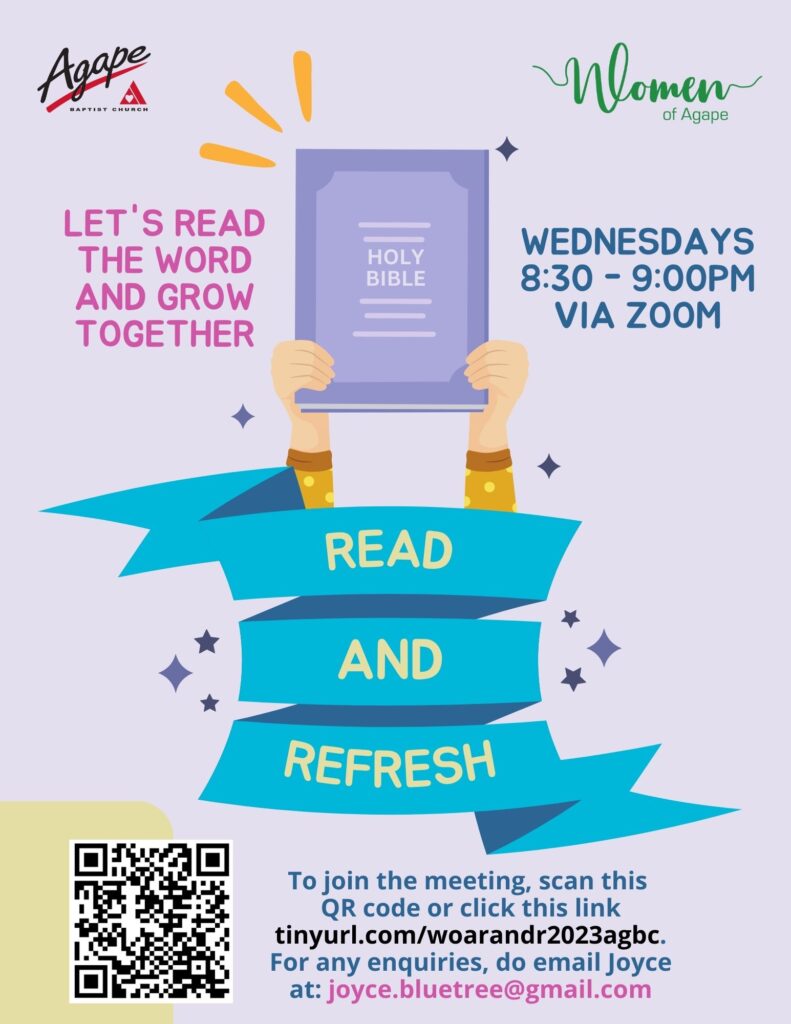 Calling all ladies! Look forward to spending half an hour of your Wednesday evenings reading a chapter of the Bible and the day's devotional from D.A. Carson's "For The Love of God" with other women! Let's spend time with God's Word, together!
Wednesdays, 8:30pm to 9:00pm via Zoom