Prayer is inbuilt into us. No matter how young a Christian you may be – or even if you are not a Christian – prayer comes naturally to us, especially in moments of helplessness and need.
However, the Christian gospel turns prayer radically on its head! Our experience of prayer changes altogether: from praying in our lostness, to getting lost in prayer. How can we rediscover this profound experience in prayer?
Come join us to learn more! Even if you are not a Christian, you are also welcome to come and find out more about Christianity's unique approach to God and prayer!
3 Sundays (24 Sep, 1 & 8 Oct), 10:00am at Dorset and via live stream on Facebook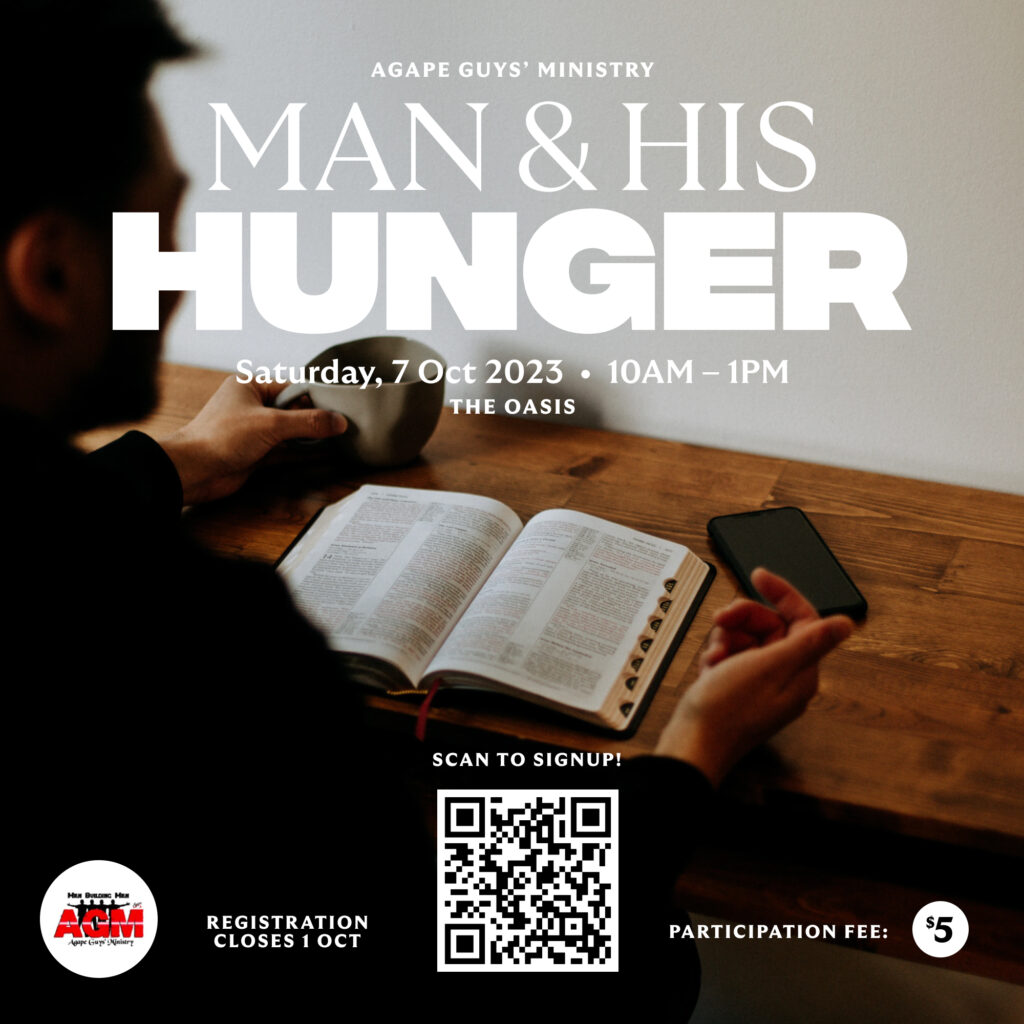 Agape Guys' Ministry is organising an event titled 'Man and His Hunger'. Come for a time of worship, fellowship and testimonies, and learn from Ps GL and Ps Too on how to turn away from superficial appetites and nurture a deep hunger for God as a man.
Registration fee is $5 which will cover the refreshments provided for the event at the Oasis. Participants will be split into groups for further bonding over lunch. For any queries, please feel free to contact the organising committee – Eugene, Mark or Zheng Xiang.  
Saturday, 10:00am to 1:00pm at The Oasis
We are conducting a new round of church membership classes. This will take place over 2 Sundays from 1:00pm to 3:00pm on 22 Oct and 29 Oct. These 2 sessions will be conducted by Pastor GL at The Oasis.
If you have been attending the Agape Sunday service for close to a year or more, but have yet to be baptised or yet to become a formal member, we warmly welcome you to register your interest by writing in to [email protected].
Upon receiving your email, one of our pastoral staff members will get back to you regarding this. The closing date for registration is 1 October.
2 Sundays (22 & 29 Oct), 1:00pm to 3:00pm at The Oasis
You may have shared your testimony before, but do you know how to share a gospel-centered testimony? Come and hear Pastor GL conduct a class on how to do so. 
No registration is needed for this class. Just come and be on time! Session will start promptly at 1:30pm. Please have your own lunch before you come for the session. 
Sunday, 1:30pm to 3:00pm at The Oasis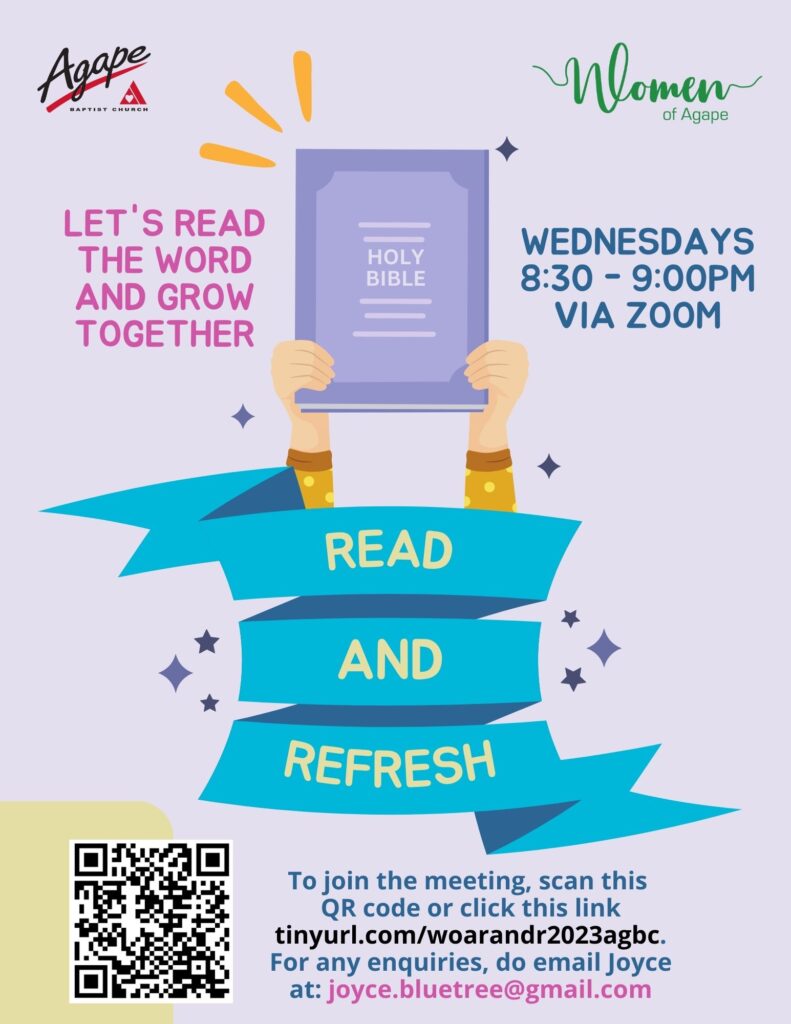 Calling all ladies! Look forward to spending half an hour of your Wednesday evenings reading a chapter of the Bible and the day's devotional from D.A. Carson's "For The Love of God" with other women! Let's spend time with God's Word, together!
Wednesdays, 8:30pm to 9:00pm via Zoom