Beginning this Sunday, we start a new series titled 'Never Beyond Hope'. Most of us know what despair feels like. It's surprising how full of despair life can be! The Bible understands how this feels like, how we are inclined to respond to despair, and even proposes an alternate remedy to deal with despair.
What do we do with our regrets? The things we shouldn't have – and should have – done? What happens to the wasted years in our lives?
Join us this Sunday for the series-finale, as Pastor Johanan brings us 'When Barren Longings Have A Future' from Ruth 4. At the end of the story of Ruth, we see the end of our own stories: we are Never Beyond Hope!
Invite a friend to catch the livestream service with you!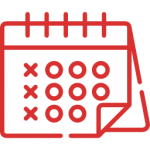 Subscribe to our calendar
Click on the link below to subscribe to Agape's calendars
Note: The links will only work on PC, Mac or Desktop browsers