Why is my marriage like that? What if I am single all my life? How can I overcome my sexual struggles?

We begin a new 3-part sermon series that seeks to address questions relevant to this topic and help different groups of people. The answers will be derived from the Word of God! Let's take this wonderful opportunity to reach out to friends who might find these topics especially meaningful for them!
Have you ever wondered what God's plan for marriage is truly like? In Ephesians 5:22-33, we get a beautiful, biblical picture of what marriage is supposed to be like.

Yet, some would say that picture is idealistic and impractical. How do we resolve this tension between the biblical ideal and reality, and apply God's word to our marriages today?

This Sunday, bring a friend along to hear God's answer to the marital woes in our world today through the sermon "Why is my marriage like this?" by Pastor GL!
"…this is the confidence that we have toward him, that if we ask anything according to his will he hears us…"
1 John 5:14

Come, let's gather in humble devotion and plead with God for the salvation of our loved ones and friends at Prayer Ignite!
God is leading Agape on a new faith journey as we embrace the God-given dream to be a growing church that plant churches! Calling all cell members to come and step up in faith as one spiritual community through a time of consolidation, inspiration, consecration and praying together. If you are not part of a cell, you are still welcome to join us!
All registered members of Agape Baptist Church are to be present at the EOGM to cast your vote for our new senior pastor.
Agape turns 35 this year! We will be honouring our very own Senior Pastor, Rev Guna Raman, for his 30 years of faithful and fruitful pastorate with Agape Baptist Church. Come, join us to celebrate God's faithfulness and grace toward us!
Registration opens 22nd September 2019 and closes on 20th October 2019, so hurry and register!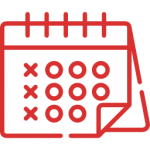 Subscribe to our calendar
Click on the link below to subscribe to Agape's calendars
Note: The links will only work on PC, Mac or Desktop browsers